Unlocking Business Success with Critical Capabilities for Supply Chain Planning Solutions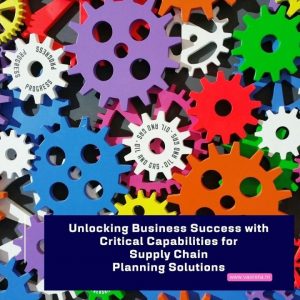 Industry Insights, Supply Chain
 As businesses continue to navigate the uncertainties of today's dynamic business environment, supply chain planning has become a critical aspect of their operations. To stay competitive, businesses need to have a comprehensive and effective supply chain planning solution that can help them manage their operations efficiently. This is where the 15 critical capabilities for supply chain planning (SCP) solutions come into play.
 Critical capabilities:
Sure, here are 15 critical capabilities and use cases for digital supply chain management solutions:
●     Real-time visibility: The ability to track and monitor the movement of goods and materials in real-time, enabling proactive decision-making.
●     Predictive analytics: The use of historical data and machine learning algorithms to forecast demand, identify potential disruptions, and optimize inventory levels.
●     Inventory optimization: The ability to balance inventory levels with demand, minimizing stockouts and excess inventory while maximizing service levels.
●     Demand planning: The ability to accurately forecast customer demand and plan production and procurement accordingly.
●     Order management: The ability to manage orders from multiple channels, automate order fulfillment, and track order status in real-time.
●     Supplier management: The ability to manage supplier relationships, track supplier performance, and collaborate on supplier development initiatives.
●     Logistics management: The ability to optimize transportation routes, track shipments, and manage carrier relationships.
●     Warehouse management: The ability to optimize warehouse operations, improve inventory accuracy, and increase productivity.
●     Quality management: The ability to manage product quality and ensure compliance with industry regulations and standards. Cost management: The ability to track and control supply chain costs, identify cost-saving opportunities, and improve profitability.
●     Sustainability management: The ability to track and manage sustainability initiatives, including reducing waste, improving energy efficiency, and reducing carbon emissions.
●     Risk management: The ability to identify and manage supply chain risks, including natural disasters, geopolitical instability, and supplier bankruptcy.
●     Collaboration and communication: The ability to collaborate with internal and external stakeholders and communicate supply chain performance metrics.
●     Artificial intelligence and machine learning: The use of AI and ML algorithms to automate supply chain processes, improve forecasting accuracy, and optimize operations.
●     Digital twin: The creation of a digital replica of the physical supply chain, enabling real-time simulation and optimization of supply chain operations.
 With a proven track record of providing digitization solutions to some of the largest and most complex supply chains, Vasista can help unlock your business success by empowering you with these critical capabilities. To schedule a demo, please contact us to arrange a suitable date and time.
 Sources:
[1] Gartner, "Critical Capabilities for Supply Chain Planning Solutions," Tim Payne, Amber Salley, John Christoffersen, Pia Orup Lund, 24 February 2021.
[2] Gartner, "Magic Quadrant for Supply Chain Planning Solutions," Amber Salley, Tim Payne, Pia Orup Lund, 22 February 2021.
Gartner does not endorse any vendor, product or service depicted in its research publications, and does not advise technology users to select only those vendors with the highest ratings or other designation. Gartner research publications consist of the opinions of Gartner's research organization and should not be construed as statements of fact. Gartner disclaims all warranties, expressed or implied, with respect to this research, including any warranties of merchantability or fitness for a particular purpose.
#planning #supplychainmanagement #vendors #supply #dailyorders #vbiz #milkosoft #vasista #digitization